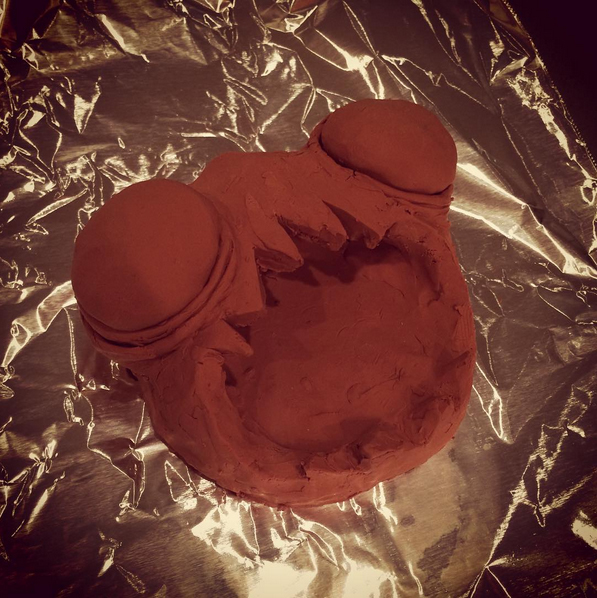 This is an ash tray I made for my boyfriend in August of 2015. It was a really fun project to get my hands dirty after not having sculpted in real life for a while. The design was heavily influenced by Tim Probert (http://timprobert.com/), an amazing illustrator from Aardman Nathan Love, while the colors and finished were influenced by Pedro Conti (http://pedroconti.com/), a legendary 3D artist, specifically- his little alien dude.

I kind of winged the whole project and started sculpting the guy around the bottom of a measuring cup. My boyfriends old ashtray was quite big, so I wanted to make sure it had similar volume. However, I made the stupid mistake of baking it a little and then adding more clay. This was stupid because I didn't score the clay at all for new clay to be able to stick to. Not much will happen when you try to stick something completely smooth to something else completely sooth. Then I changed my mind a lot about the general color of the guy. But I really liked moving into a more grotesque and weird look with him since my last project, Taking the Plunge, had felt so clean. I'm a huge nerd and tried to combine glossy and matte top coats to make it look just a little more juicy around his eyes and mouth.

Overall, this was a really fun experience, but realllly hard to work with clay. I definitely know what I'll be doing differently next time!
Oh I also used a candle to prop this guy up on to paint it. And it was in that moment that I remembered I had been saving candle lids for the very purpose of making ashtrays (use less clay and the foundation is there for you). Doh.

Next time!